Welcome to the Community Activity Center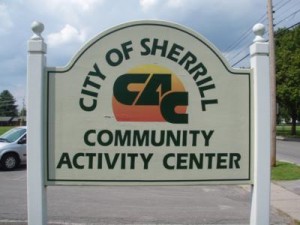 139 East Hamilton Avenue, Sherrill
(315) 363-6525
Please find information below about ongoing programs and classes, bowling and special events and activities.  If you have questions or would like more information or are interested in teaching a class or holding an event at the CAC please call, stop by, or email sgetman@sherrillny.org.  
Upcoming Spring Events at the CAC!
Spring Craft Show, April 6 9am-3pm
Stop by, call, or visit the website for details about how to be a vendor.  There will also be bowling all day!
Bowling Camp, April 8-12, 10am-12pm- Bowl with members of the VVS bowling teams, learn new skills and practice!  This program is open to children in kindergarten-sixth grade who attend E.A. McAllister school. Cost: $3/day (may be brought each day).  Please pre-register by signing up at City Hall or the CAC.
Adult Spring Singles Bowling Tournament, April 11-13
Sign up for shifts by stopping by or calling the CAC.  This tournament is open to all adult bowlers.
Adult Spring Bowling League Meeting- April 16, 6pm, Join this adult league!  The league will start April 23.  Stop by or call the CAC for details.
Sherrill Little League Pancake Breakfast- April 20, 8am-12pm
Planting Roots in Sherrill- April 21, 12-4pm
Join the Sherrill Merchants Association for this fun day!  There will be a petting zoo, games, prizes, and bowling.  Look for details at SMA businesses.
Dollars For Scholars Annual Garage and Pie Sale- April 27, 9am-1pm- Come to this sale!  Proceeds benefit VVS students!
Quilt Show- May 3 5-9pm, May 4 10am-4pm, May 5 12-4pm- $4 admission- There will be door prizes and a small gift for everyone with paid admission.  There will also be a quilt raffle, vendors, a silent auction and more!
Ongoing Spring Programs and Events
Mondays
-Bone Builders- Strength Training for the Older Adult, 10am, Contact Karen, 223-3973 or Polly 853-6258. $1.50/class
 Tuesdays
-Community Fine Arts Guild- Join this group of artists 9am-12pm to paint, work together, share ideas, and to have the opportunity for critique, if desired.
-Zumba- Ongoing through June 11, 7-8pm, Contact Sue Crawford, 368-4654.   $7/class
 Wednesdays
-Oneida County Office for the Aging – On the first Wednesday of every month at 10:30am the office is able to provide people ages 60 and over, and people of any age with disabilities, with many services.
-CAC Craft and Chat Group- Join this group the first, third and fifth Wednesday of each month, 11am-1pm, to knit, sew, or create any other craft.  Buy lunch at the CAC or bring your own.
Daily Programs
-Walking in the gym- This is a self-monitored program open to all, weekday mornings 8-9:30am.
 -Kids Play Time- Monday-Friday, 9:30am-12pm
Come join this self-monitored program for parents to bring their children, ages 5 and younger, for indoor play in the gym.  Children must be supervised by an adult.
 -Open Gym- The gym at the CAC can be used for basketball.  Fees are:  $3 per person for ½ court use, one hour maximum or $24 for full court use, 8 people minimum, one hour maximum.  Sherrill residents must sign out basketballs.  Children 15 and under must be supervised by a parent or guardian.  Please call 363-6525 for more details and availability.
Bowling Hours- Please call for ongoing bowling hours through late April/early May.
Do you have other ideas or are there programs you'd like to see at the CAC? Please stop by, call or email your ideas to sgetman@sherrillny.org.
City of Sherrill Open Gym Rules and Procedures