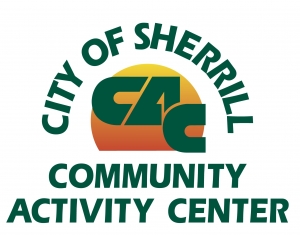 Welcome to the Community Activity Center!
139 East Hamilton Avenue, Sherrill
(315) 363-6525
Please see the calendar of events and activities and more information about these programs below.  Please note- the calendar is updated regularly and events are subject to change.

Daily Activities & Ongoing Classes, Groups and Events
-Walking in the gym- Monday-Friday, 8-9am, September-June

-Kids Time- Adults can bring children 5 and under to enjoy self-monitored indoor play Monday-Friday, 10am-12pm, September-June

*Please note- hours for walking and kids time are subject to change occasionally due to special events or holidays.  Please check at the CAC for updates.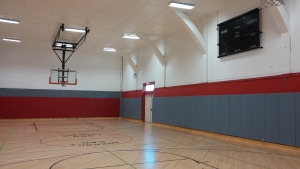 Mondays
-Bone Builders-Strength Training for the Older Adult, 9am, Contact Polly, (315) 853-6258 for details, $1.50/class.
-Yoga Classes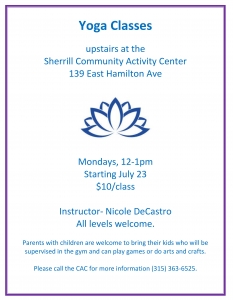 Tuesdays
-Community Fine Arts Guild- Join this group of artists 9am-12pm to paint, share ideas, and for critique.
Wednesdays
-Oneida County Office for the Aging- A representative visits the first Wednesday of the month at 11am to provide services.  Appointments can also be set up by contacting Emily Comito, (315) 768-3623.

-CAC Craft and Chat Group- On the 1st, 3rd & 5th Wednesday of each month, 11am-1pm, this group meets to knit, sew, and create crafts. 
Thursdays
-Rescue Me K-9 Dog Rescue Dog Socialization Classes- These are free classes from 6-7pm in the gym.  Donations are accepted.  Classes are held at the CAC early fall-early spring and then move to an outdoor location.  Contact Debbie Martin, (315) 829-3454 for more information.
Other Programs and Events
City of Sherrill Youth Center Information
Thank you to everyone for a great 2017-2018 season!  Please check back for details about when youth center will reopen in Fall of 2018.  VVS students in grades 4-12 are invited to attend the City of Sherrill Youth Center at the Sherrill Community Activity Center, 139 East Hamilton Ave, October-March.  Youth Center will be open Mondays & Tuesdays from 6-9pm for students in grades 4-6 and Fridays & Saturdays  from 6:30-10pm for students in grades 7-12.  Special events and schedule changes will be posted at the CAC or below.
Youth Center is a supervised program.  During Youth Center students may participate in activities such as basketball, volleyball, computer use, etc. in the gym and the youth center.  All students who attend youth center must sign in when they arrive and sign out when they leave. Once signed in, students may not leave the building until they leave youth center for the evening.  Students must be respectful of one another, the equipment, the staff and facilities.  Youth Center staff will communicate with students and parents to address any issues that arise throughout the season. 
All parents who have children who attend youth center must fill out a form which is available at the CAC, City Hall or below.   Students, including guests, who do not live in the City of Sherrill or the Town of Vernon must purchase a ticket or season pass to attend youth center.  Tickets and passes are available at the CAC for $5/night or $30/10 nights or season passes may be purchased for $75/individual or $125/family. 
Youth Center Information and Registration
Bowling Information- There are leagues for kids and adults at the CAC September-June.  League meetings and sign ups for fall leagues take place in the late summer and early fall and for spring leagues in the late winter and early spring.  Please call for more information.  The CAC is open for bowling Wednesdays 10am-12pm, Fridays 6-11pm, Saturdays 1-5pm & 9:30-11pm and Sundays 12-5pm September-April.  This schedule is subject to change due to special events and other activities and the CAC is also open for bowling on some holidays and days when VVS schools are closed.  Please call for details.
Bowling Tournament- Thank you to everyone who participated in the 2018 Bowling Tournament! Please view the final tournament standings here- CAC Bowling Tournament Final Standings
Billiards Information- Anyone 16 or older can play pool anytime tables are available. Costs: $2/half-hour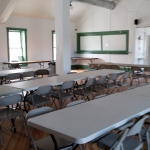 Birthdays, Parties and Private Events- The gym or upstairs room are available to rent for bowling birthday parties, baby showers, graduation parties or other private events. See below for details and call with questions and for availability. 
Rental and Bowling Fees

Gym or Upstairs Room

$40 resident/$50 non-resident/per hour
$30 non-profit/class/organization/per hour
Off Season (approximately May-August)$50 resident/$60 non-resident/per hour


Gym or Upstairs Room

For Bowling Party

$30 resident/$40 non-resident/per hour
$20 non-profit/class/organization/per hour


Open Bowling

$3.25/game

$1/shoes

Bowling Fee for Parties

$4.25/1 game & shoes

Adult Bowling League Fee

$9.50/3 games

Youth & Senior Groups & League Fees

$2.75/game

$5.50/2 games- Thursday & Saturday Kids Leagues

$8.25/3 games- Saturday Kids/Sunday Junior/Thursday Morning Senior Leagues

Senior Bowling Discount Wednesdays 10am-12pm

$2/game
-Individuals may arrive 30 minutes before their reservation to set up.  CAC staff will be assisting with any cleanup from the previous party during this time.  If individuals need more set up time they must rent the space for additional time.  Individuals must plan to clean up and remove all materials and vacate the room by the end of their rental time.  There are usually many reservations and this will allow everyone to have a positive experience and stay on schedule.  For bowling parties individuals will use the gym or upstairs room first and then bowl.  When individuals start to bowl they must remove everything from the room.
-Individuals reserving the space must pay a deposit at time of reservation equal to 1 hour of the rental fee.  This deposit is non-refundable.  If the reservation must be cancelled, the individual must do so 72 hours in advance.  If the cancellation is made less than 72 hours in advance or the individual does not show up the individual will be billed.
-The gym may be used for "open gym" for basketball, etc. when it's available.  The gym may not be reserved for "open gym".  The fee for open gym is $3/per person/per hour.
-Organizations and individuals who are holding classes, using bounce houses or other equipment must provide liability insurance. 
-Please note- policies, rates, availability etc. are subject to change.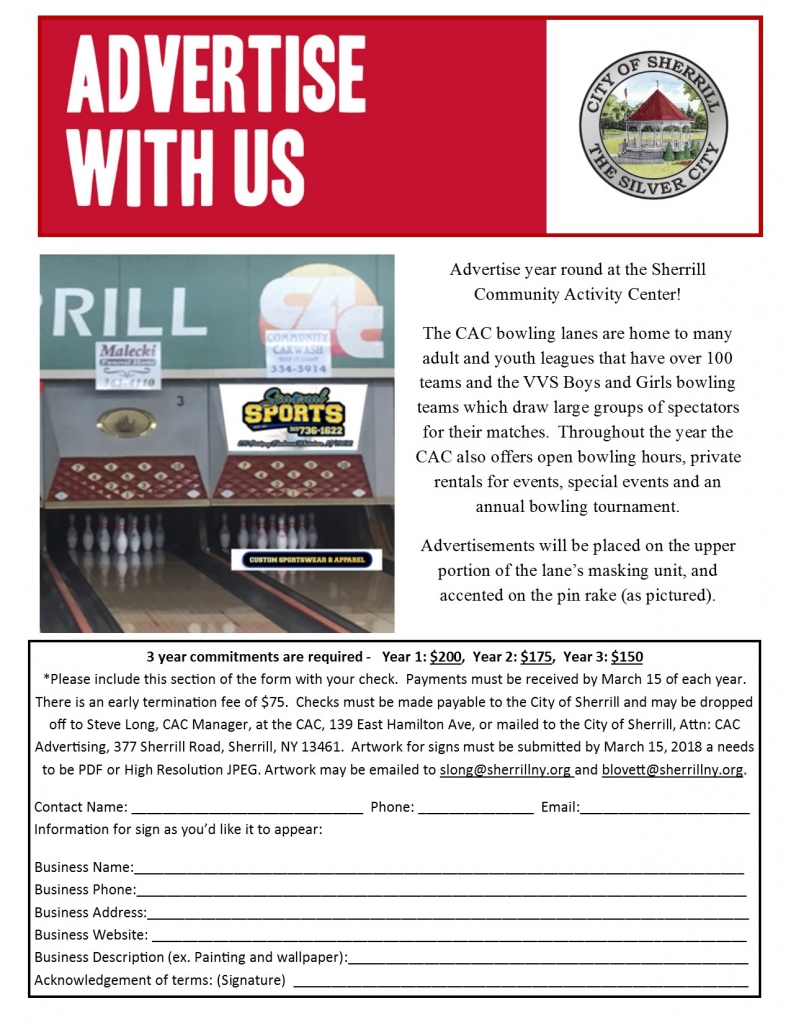 Download this form in pdf format here- CAC Advertising.