Welcome to the Community Activity Center!
139 East Hamilton Avenue, (315) 363-6525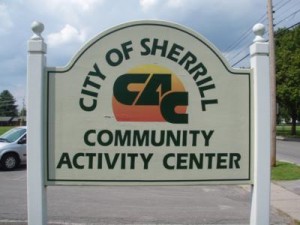 Ongoing Programs and Events
Mondays
-Bone Builders– Strength Training for the Older Adult, 9am, Contact Polly 853-6258 for more information, $1.50/class.
Tuesdays
-Community Fine Arts Guild- Join this group of artists 9am-12pm to paint, work together, share ideas, and to have the opportunity for critique, if desired.
Wednesdays
-Oneida County Office for the Aging- On the first Wednesday of every month at 11am a representative from the office is at the CAC and is able to provide people ages 60 and over, and people of any age with disabilities, with many services. If you have questions, would like more information, or would like to set up an appointment for a representative from the Office for the Aging to meet with you please contact Emily Comito, 768-3623.

*Note- A representative from the Office for the Aging will be at the CAC Thursday July 2 at 11am instead of Wednesday July 1. 
-CAC Craft and Chat Group- Join this group the first, third and fifth Wednesday of each month, 11am-1pm, to knit, sew, or create any other craft.  Bring your lunch!

Daily Programs
Walking– This is a self-monitored program for walking in the gym open to all, weekday mornings 8-9am, September-April.
Kids Play Time– Monday-Friday, 10am-12pm, September-April- This is a self-monitored program for parents to bring their children, ages 5 and younger, for indoor play in the gym.  Children must be supervised by an adult.
Open Gym- The gym at the CAC can be used for basketball.  Fees are:  $3 per person for ½ court use, one hour maximum or $24 for full court use, 8 people minimum, one hour maximum.  Sherrill residents must sign out basketballs.  Children 15 and under must be supervised by a parent or guardian.  Call 363-6525 for availability.
Bowling Information
Summer Bowling Hours- Wednesdays 11am-2pm, Call for additional hours on weekends and for special events.

Fall Bowling and Billiards Leagues at the CAC- There are bowling leagues for kids Thursdays, Saturdays and Sundays and adults Monday-Saturday nights, September-April.  There are also billiards leagues. Call to sign up!
Other Programs
2015 City of Sherrill Playground Program- Monday June 29-Friday July 24, weekdays 9am-12pm, *No Playground July 3 or 6, There are lots of fun activities planned. Registration forms will be distributed at school in June and will also be available at City Hall. Contact Sara Getman, 363-6525 with questions.
2015-2016 City of Sherrill Youth Center Information- From October-March Youth Center is a supervised program on Mondays and Tuesdays from 6-9pm for students in grades 4-6 and Fridays and Saturdays from 6:30-10pm for students in grades 7-12. Check back in late summer for details about the 2015-2016 season.

 Private Events

Birthday Parties and Events- Have a bowling birthday party, baby shower, graduation party or another event at the CAC!  Call for more details.
Do you have other ideas or are there programs you'd like to see at the CAC?
Please stop by, call or email your ideas to sgetman@sherrillny.org.