Welcome to the Community Activity Center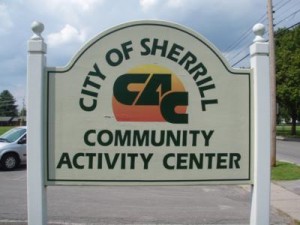 139 East Hamilton Avenue, Sherrill
(315) 363-6525
Please find information below about ongoing programs and classes, bowling and special events and activities.  If you have questions or would like more information or are interested in teaching a class or holding an event at the CAC please call, stop by, or email sgetman@sherrillny.org.  
Community Activity Center News
Winter Playground- Monday-Friday December 30-January 3, 10am-12pm, *No program Wednesday January 1- This program is open to children who attend E.A. McAllister who are in Pre-Kindergarten-Sixth Grade.  Children will participate in sports activities and arts and crafts.  Preregistration is required and registration forms will be available in early December at the CAC or City Hall.
Bowling Leagues- The Tuesday, Wednesday and Thursday night adult leagues and the Sunday night junior league (bowlers ages 12-19) are looking for bowlers.  Call the CAC 363-6525 for more information.  Tuesday Night Mixed League- Sanctioned, 3 person teams, Wednesday Night Women's League- Non-Sanctioned, 4 person teams, Thursday Night Women's Doubles League- Non-Sanctioned- Come join a fun evening of bowling! There are two women on a team, starting in September right after Labor Day and finishing by mid March.  If you are interested, please call Jill Salm at 363-2440. Sunday Night Juniors League- Sanctioned- For students 12-18 years old.
Junior Bowling Leagues- There is a Thursday league for bowlers 8-12 years old and Saturday leagues for bowlers 12 years old and older at 9am, bowlers 7-12 years old at 11:30am and an instructional program for bowlers 5-7 years old at 1:30pm.  These leagues are for everyone- there are no restrictions about where bowlers live or go to school.  Please contact Allen Glover with any questions after 2:30pm, 363-1748 or the CAC.
Pool League- The adult pool league is looking for players for Fall/Winter 2013.  Call the CAC for more information.
Ongoing Programs and Events
If you are interested in teaching a class or holding an event at the CAC please call for more information.
Mondays
-Bone Builders- Strength Training for the Older Adult, 9am, Contact Polly 853-6258 for more information, $1.50/class.
-Fiber Fans CNY- A social group for people interested in fiber crafts. Knitters, crocheters, weavers, spinners, felters, etc. are welcome.Socks, scarves, felting, lace, beaded crochet, rugs…we do it all. All skill levels welcome! Come work together, chat, learn, relax, have fun…5:30-8pm   For more information contact-  Antony- doanart@gmail.com or on Facebook: Fiber Fans CNY
Tuesdays
-Community Fine Arts Guild- Join this group of artists 9am-12pm to paint, work together, share ideas, and to have the opportunity for critique, if desired.
-Zumba- Tuesdays 7-8pm, Contact Sue Crawford, 368-4654.   $25/4 week session, or $8/class *Please note, the last Zumba class for 2013 will be Tuesday November 12.  Classes will resume in January- please contact Sue or check back for updates.
 Wednesdays
-Oneida County Office for the Aging- On the first Wednesday of every month, August-May, at 11am a representative from the office is at the CAC and is able to provide people ages 60 and over, and people of any age with disabilities, with many services. *Please note that HEAP applications are available.  If you have questions, would like more information, or would like to set up an appointment for a representative from the Office for the Aging to meet with you about HEAP please contact Emily Comito, 768-3623.  **Please also note that in January the Office for the Aging will be at the CAC on January 8 instead of January 1.
-Oneida Limited Retirement Club- Join this group open to all retirees of Oneida Limited and their spouses the first Wednesday of each month at the CAC at 11:30am.  Please contact Jeane McQuade-Tudman, 363-1804, with any questions.
-CAC Craft and Chat Group- Join this group the first, third and fifth Wednesday of each month, 11am-1pm, to knit, sew, or create any other craft.  Buy lunch at the CAC or bring your own.
-Yoga Classes- Wednesdays 6:30-7:30pm
Thursdays
-Rescue Me K-9 Dog Rescue Dog Socialization Classes- Come to these free classes for anybody who wants to bring their dog.  Donations are accepted. Thursdays 6-7pm, Please contact Debbie Martin, 829-3454 with any questions.
Other Programs
2013-2014 City of Sherrill Youth Center Information- Any student who attends VVS schools may attend youth center.  Additionally any student who attends VVS schools may bring a guest.    Children, including guests, who do not live in the City of Sherrill or the Town of Vernon must purchase a ticket or season pass to attend youth center.  Tickets and passes are available at the CAC or Sherrill City Hall for $5/night or $30/10 nights or season passes may be purchased for $75/individual or $125/family.  All parents who have children who attend youth center must fill out paperwork for 2013 which is available at the CAC, City Hall or here- 2013 Youth Center Information.   Youth Center is a supervised program.  During Youth Center children may participate in activities in the gym and the youth center, use computers, play ping pong, foosball, pool, watch television, etc.  Special events and closing days will be announced throughout the year.  All children who attend youth center must sign in when they arrive and sign out when they leave. Once signed in, children may not leave the building until they leave youth center for the evening.  Additionally children must be respectful of one another, the equipment, the staff and facilities.   Youth Center will be open Monday and Tuesday from 6-9pm for children in grades 4-6 and Friday and Saturday from 6:30-10pm for children in grades 7-12.  Please call the CAC (315) 363-6525 with any questions.  Please note there is no youth center December 6, December 24 or December 31.
Chronic Disease Self-Management and Diabetes Self-Management Workshops- Subjects covered include: techniques to deal with problems such as frustration, fatigue, and pain, appropriate exercise, use of medications, making informed treatment decisions, and more.  Caregivers are welcome as well. IIf interested, please contact Carol Nettleton @ 768-3632 for more information.
Daily Programs
-Walking in the gym- This is a self-monitored program open to all, weekday mornings 8-9:30am.
 -Kids Play Time- Monday-Friday, 9:30am-12pm- Come join this self-monitored program for parents to bring their children, ages 5 and younger, for indoor play in the gym.  Children must be supervised by an adult.
 -Open Gym- The gym at the CAC can be used for basketball.  Fees are:  $3 per person for ½ court use, one hour maximum or $24 for full court use, 8 people minimum, one hour maximum.  Sherrill residents must sign out basketballs.  Children 15 and under must be supervised by a parent or guardian.  Please call 363-6525 for more details and availability.
Bowling Hours-  Wednesdays 11am-2pm, Fridays 6pm-11pm or 9:15-11pm (because of a league every other Friday), Saturdays 1-5pm and 9:15-11pm, Sundays 12-5pm- Please call for information about additional hours on school half days, holidays and snow days.
Birthday Parties and Events- Have a bowling birthday party or another event at the CAC!  Call for more details!
Do you have other ideas or are there programs you'd like to see at the CAC? Please stop by, call or email your ideas to sgetman@sherrillny.org.
City of Sherrill Open Gym Rules and Procedures