Sherrill-Kenwood Volunteer Fire Department
373 Sherrill Road
Sherrill, NY 13461
Phone: (315) 363-0530
Fax: (315) 363-1540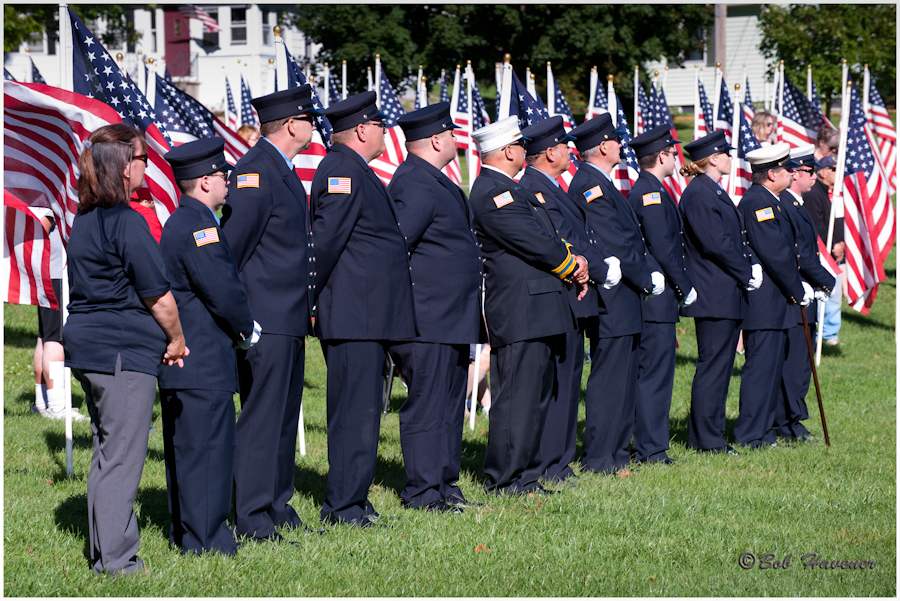 About the Department:
The Sherrill-Kenwood Volunteer Fire Department operates in a city-owned building and is furnished with city-owned equipment. The department also has a volunteer rescue service. The Sherrill-Kenwood Volunteer Fire Department, an ISO-rated 4 department, is the only all-volunteer department serving a city in New York State.
Fire Department News and Reminders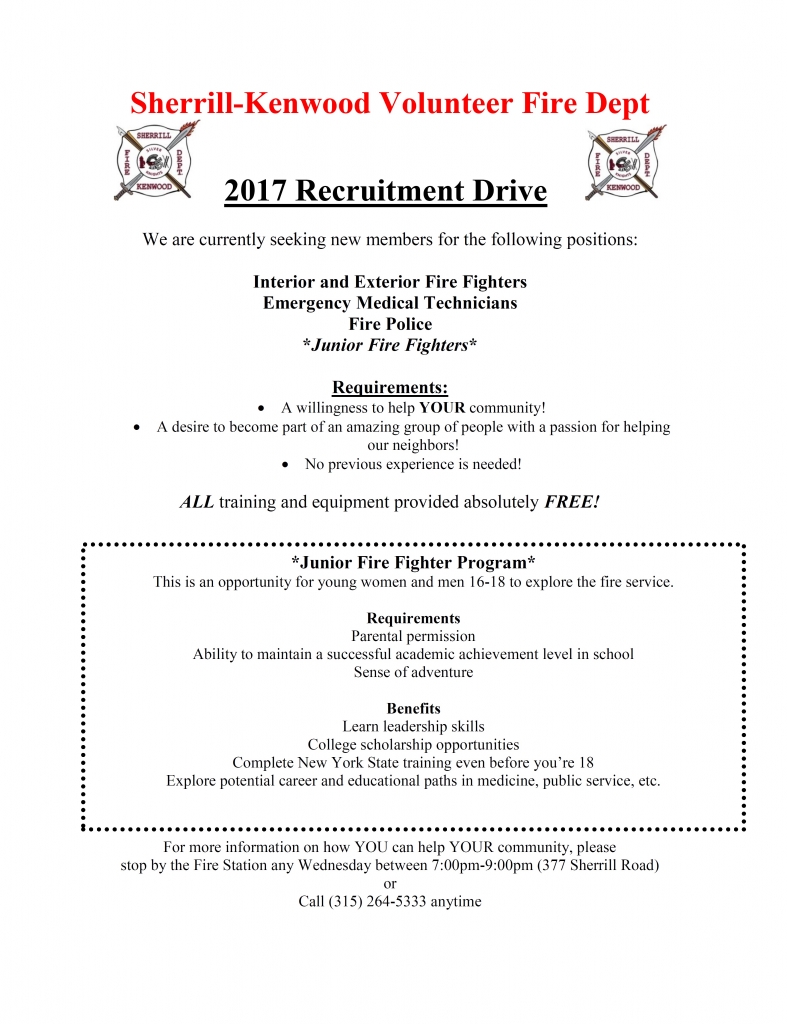 Chicken BBQ- The Fire Department will hold its chicken BBQ on Saturday July 29.  Look for more details coming soon.
Carbon Monoxide Poisoning- Carbon monoxide is a silent, deadly killer claiming about 1,000 lives each year in the United States.  Automotive exhaust, home heating systems and obstructed chimneys can produce the colorless, odorless gas.  The gas can also be produced by poorly vented generators, kerosene heaters, gas grills and other items used for cooking and heating.
NEVER run generators indoors. Open a window slightly when using a kerosene heater.
NEVER use charcoal to cook indoors.
NEVER use a gas oven to heat your home.
Symptoms of carbon monoxide poisoning include sleepiness, headaches and dizziness.  If you suspect carbon monoxide poisoning, dial 911.
Terms to Know- A Severe Thunderstorm Watch is issued to alert you to the possibility that thunderstorms with damaging winds and large hail may develop. A Severe Thunderstorm Warning is issued when a severe thunderstorm has been spotted and is going to move through your county soon. Remain calm and take precautionary action to protect your life and property.  Listen to NOAA Weather Radio and local media for weather updates and stay informed.
Grilling– Three out of five households own a gas grill. Each year an average of 8,800 home fires are caused by grilling, and close to half of all injuries involving grills are due to thermal burns. While nearly half of people who grill do it year-round, July is the peak month for grill fires followed by May, June and August.  Grilling statistics:
  -In 2012, 16,900 patients went to ERs due to injuries involving grills.
  -1 of every 6 home structure fires in which grills were involved were
  caused by something that could catch fire being too close to the grill.
  -Leaks or breaks were factors in 1 of every 5 reported grill fires.
  -Gas grills contribute to a higher number of home fires than charcoal.
Please use caution when using outdoor cookers.  Locate them a safe distance from all structures when in use.  Backyard grilling can be an enjoyable aspect of the summer season but can turn tragic quickly if left unattended.  Please do not use gas grills, turkey fryers and smokers on porches or decks that are attached to the house.  Check all hoses to make sure they are in proper working condition and not cracked with dry rot. 
Chimineas and Fireplaces- Fire code requires recreational fires not be within 25 feet of any structure or combustible material (including fences, hedges, etc).  All fires must be constantly attended until extinguished. 
Membership- The Fire Department is always looking for new members.  If you've ever wondered how you could help your community, consider joining.  If you're 18 years or older (male or female) please visit the fire station during our Wednesday Night Drill that starts at 6:50pm, EVERY WEDNESDAY, for more information.  We also have a junior firefighter program for young men and women who are 16 years or older.